We've recently expanded our line of digital short run products. And perhaps that's left you wondering: what's the difference between offset and digital printing? What are the pros and cons? And when should I choose digital printing over offset printing?
This brief will provide a simple comparison of the two printing methods so that you can easily decide which approach is best for your next wholesale printing project.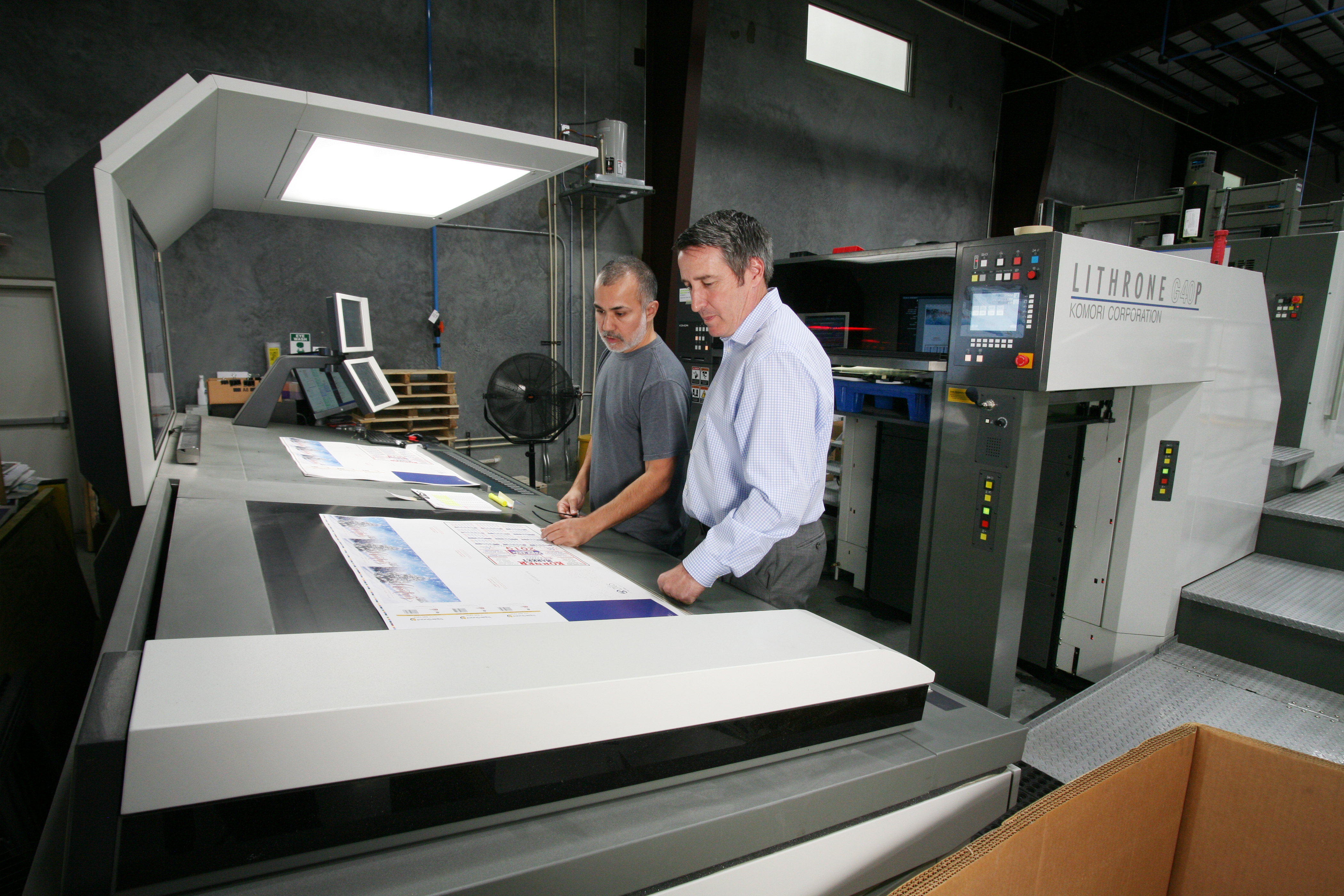 What is Offset Printing?
Offset printing is currently the most utilized method for printing brochures, postcards, catalogs, booklets, and other marketing materials. The process uses aluminum based plates that are fitted to rollers called plate cylinders. Images and text are then transferred from the plate cylinders to a rubber sheet (or "blanket"), which is then transferred onto paper.
Four colors are used in offset printing: Cyan, Magenta, Yellow, and Black (Key). When combined, CMYK can produce any color needed for printing.
While offset printing requires more setup, it is guaranteed to produce the highest quality and most consistent results on a variety of paper. Offset printing also offers far greater control over color quality, and the costs for bulk printing are far more economical.
What is Digital Printing?
Digital printing uses either toner or ink rather than plates. Electronic files (like PDFs) are uploaded directly to the digital press and the job begins to print. While there are additional steps involved in prepress, this covers the simplicity of the digital printing process.
Until some very recent technological advancements, digital printing was noticeably inferior to offset printing. For many professional print jobs, digital printing wasn't really a viable option. Today though, new digital presses have answered that quality question and can produce stunning results and consistent quality.
What are the Pros & Cons of Offset Printing?
The Pros:
Quality. Offset printing is inarguably the path to the highest possible print quality. Offset printing guarantees high quality products on a wide variety of substrates, and it provides consistent, reliable results.
Bulk Pricing. When you're looking for the best pricing on a large run, offset printing guarantees the best price per piece. It is far more cost effective than digital printing if you're going to print a bulk order.
Consistency. Count on outstanding color consistency and reliably reproduceable results.
The Cons:
Investment. While the price per piece is considerably lower on a larger order, the upfront investment is higher.
Turnaround. Initial setup takes longer than digital, so turnaround times may be slightly longer – especially if you're placing a very large bulk print order.
What are the Pros and Cons of Digital Printing?
The Pros:
Turnaround. Fast setup means faster turnaround times.
Short Runs. Digital printing is super cost-effective for short print runs. The price per piece comes out higher than an offset run, but the up-front costs are smaller for a short run.
Variable Data. Digital printing makes it easy to include variable data or customization on each piece.
The Cons:
Lower Quality. Unless best in class equipment is used, it's hard to beat the pristine quality of offset printing.
Cost for Large Runs. Digital printing is not cost-effective for larger print runs, as paper and toner are more expensive.
Limited materials. While offset printing can accommodate a variety of substrates, digital printing is limited to a narrow range of compatible stocks.
Digital Printing vs. Offset Printing: The Wrap
So what route is ultimately best for your wholesale print job? It really comes down to a few deciding factors: quantity, time frame, and specs.
Don't hesitate to talk with our industry experts if you need help deciding which route to take. We're here to provide the expertise you need to get your wholesale printing jobs done right. Call us or email us and we'll get right back to you with practical print solutions.