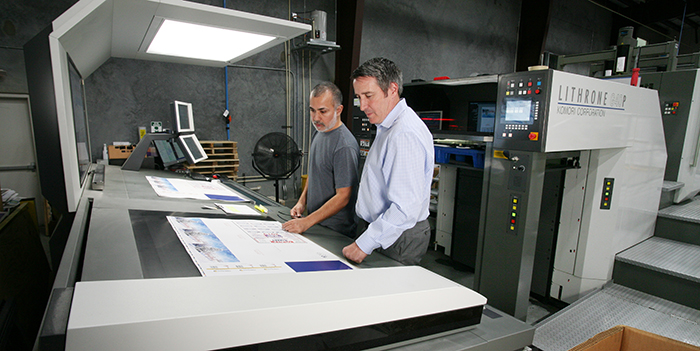 If you're like everyone else in the industry, you've been dealing with rising costs, supply chain issues, and numerous other challenges affecting production. Traditionally, many of our customers have turned to us as a wholesale printer during peak production times, or for more specialized jobs. Now, however, most are looking to us as a much larger resource for handling the bulk of print production.
We're here to serve as your trusted trade partner—to ensure that your customers are getting the best products at the best prices, and that your margins are protected. If you're wondering whether it's time to start outsourcing more work, ask yourself a few questions:
1. Can you handle the capacity?
In many situations, it's smart to outsource based on your schedule and capacity. While you may be able to get a job done in-house, outsourcing that job allows you to turn that job around faster and take on more business. Outsourcing the simple jobs also frees you up to focus on the more complex jobs that require your focus and quality control.
2. Are you equipped for the job?
Outsourcing is really smart when in comes to work that falls outside of your core process. If you consistently produce certain products, then you have the processes in place to meet the demand and keep your customers happy. We recommend outsourcing when a job falls outside of those regular processes.
3. Are you capable of producing the job in house?
When you partner with a wholesale printer like ND4C, it gives you the ability to take on bigger and more complex jobs. When it comes to larger format printing or jobs that involve complex binding, or even premium embellishments like foil, it often makes a lot more sense to outsource. With equipment like our Presto II from Muller Martini for rapid, high quality binding, we have the capacity to produce these jobs quickly, setting you free to generate new business.
4. What's most cost effective?
Finally, the decision to outsource often comes down to a simple matter of profit margins. For many jobs, outsourcing can provide a dramatic increase in profit. A wholesale trade printer can produce jobs at lower costs since we produce higher volume. Our costs per job are lower, allowing us to pass those savings on to you.
We Print. You Profit.
We're here to make your job easier. We work exclusively with print houses, sign shops, designers, and other trade professionals. Our goal is to maximize your profits, so we'll never compete by selling retail. When you need a reliable trade print partner, you can count on our team at ND4C to come through for you. Sign up and see how we can help you meet your business goals!